History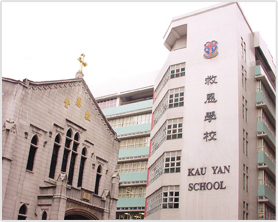 Incubation Phase
(1946-1960)
1946

After the Second World War, Hong Kong was left in a ruined state. As many children were deprived of an education, Kau Yan Church established 'Kau Yan School' in 1946 with the vision of preaching the Gospel through education. At that time, the school was only comprised of the primary school and kindergarten sections.

1950

In 1950, the school was renamed 'Kau Yan College' when it started to run a secondary school section with English as the medium of instruction. The school building was used on a shared basis by the primary school in the morning and the secondary school in the afternoon. Due to insufficient space, a new school building was planned.

1957

The construction of the new school building was completed in 1957. To focus on the development of the primary and secondary schools, the kindergarten section was closed down in 1959. In the same year, the secondary school section offered the matriculation course, expanding into a school complete with all levels of secondary education.
Growing Phase
(1961-1999)
1961

Upon the completion of the new school building, the school developed at a steady pace, while striving for progress. In 1967, massive riots broke out in Hong Kong, resulting in the suspensions of classes. Thanks to the protection of God, the school came through the turmoil safe and sound.

1972


In 1972, the Government introduced free primary education. Our school offered scholarships and bursaries to students in need.


1975


In 1975, Kau Yan College received the initial subsidy from the Government and since then the primary and secondary school sections became independent from each other administratively.


1985

In 1985, the Education Department granted approval for the school to change its name to 'Kau Yan Primary School'.

1989

In 1989, the School Management Committee accepted the Education Department's proposal to relocate Kau Yan College to a new school site in Tai Po, New Territories. At the same time, plans were put in place to make available the school building vacated by the secondary school for the expansion of the primary school.

1991

In September 1991, the secondary school began to move out of the school building in Sai Ying Pun in phases, thus sparing more classrooms for the primary school. Students in the afternoon classes were transferred to the morning classes, so that extracurricular activities could be organized in the afternoon. This change brought about major improvements to school life in terms of time and space utilization.
Challenging Phase
(1992-2007)
1992

Following the complete relocation of the secondary school to Tai Po, in 1992 the primary school also moved out of the old school premises in Sai Ying Pun to a building offered, without a financial charge, by the Hong Kong Swatow Christian Church as its temporary campus, so as to enable the redevelopment of the school building on the original site. Two separate School Management Committees were also set up for the administration of the secondary school and the primary school respectively.

1993

In 1993, the primary school formally became a whole-day school.

1995

The new school building was completed in August 1995 at a cost of about $60 million. Well equipped with teaching and learning facilities, the new school building accommodated a kindergarten campus of 10,000 square feet, which had nine classrooms and a spacious activity area. The primary school was housed in a campus of 50,000 square feet, which comprised a covered playground, an outdoor basketball court, a library, computer rooms, audio-visual lecture rooms and a large school kitchen. There were also about 30 air-conditioned classrooms and special-purpose teaching rooms.

Mrs. Julie To was appointed as School Principal in March 1995 and Mrs. Joyce Ma as Head of the kindergarten section in September 1995 to assist Mrs. To in resuming the operation of the kindergarten.

1996

In February 1996, the kindergarten section resumed operation.

1998

In 1998, the school kitchen started to serve delicious and healthy lunches for teachers and students on every school day.

1999

In 1999, the school participated, as one of the ten pioneering schools, in 'A User-friendly Flexi-IT Approach for Education' project, organized by the University of Hong Kong and subsidized by the Quality Education Fund. The project provided comprehensive IT proficiency training for all teachers.

2001

In 2001, the school implemented major reforms on its schooling timetable and assessment system in keeping with the trend of social and educational developments. Arrangements were also made for students of various grades to take part in community care activities, so as to enhance their social awareness. The school computer network was completed in February and a multimedia teaching room became operational in April. Furthermore, a 'Kau Yan Little Garden' consisting of a children's playground and a small farm was set up to vividly grace the campus. In that year, the Advisory Inspectorate Division of the Education Department visited 72 whole-day primary schools and our school was selected as one of the four best-performing schools of the year.

2002

In 2002, our school was awarded a distinction among the 66 participating primary schools in the 'Outstanding Reading Scheme', which was jointly organized by the Education Department and the Hong Kong Information Education City. The 'Unique Me' project on moral education was also launched, in which a junior student was paired up with a senior student to promote a caring partnership and a sense of belonging to the school. An exhibition entitled 'Festival Gift of Red Ants' was held in March to display the artistic works of kindergarten students. The pieces of artwork were subsequently compiled into a pictorial book, which was highly appreciated by parents and the community, signifying a major step taken by the school towards the development of Art education for children.

2003

In 2003, the school operated 18 classes with some 520 students. During the outbreak of SARS, all schools in Hong Kong suspended their classes. To minimize the impact on the students' learning, our school resumed the classes in the form of small group teaching. As a showcase of the achievements of an integrated curriculum with Art education, an exhibition entitled 'Apron Made of Patches' was held in April to display the artistic work of kindergarten students. The pieces of artwork were subsequently published as a pictorial book. The school's efforts in developing multiple intelligences through Art education were highly appreciated and recognized by parents and the community. In July, a graduation ceremony was held in tandem with a picture exhibition entitled 'The World of Children's Heart' in the Jockey Club Auditorium of the Hong Kong Polytechnic University, to exhibit the creative work of students.

2004

In December 2004, a Christmas Music Nite was held in the United Christian College (Kowloon East), with more than 450 parents attending the show. In July, the school organized the 'Joyful Music of Children' show and published a CD together with a booklet to capture the whole musical experience. Students were highly involved in these activities and parents were deeply touched by the children's performances. In that year, our school was the Grand Champion of Female Athletes (Western District of Hong Kong Island) Group under the 'New Asia Cup' Primary School Sports Award Scheme, which was organized by the Hong Kong Schools Sports Federation.

2005

In 2005, our school introduced a pilot group teaching programme, with Primary Five students divided according to their learning ability and needs into four groups for Chinese, English and Mathematics lessons. In sports, our school was once again the winner of Gold Award for the Female Athletes (Western District of Hong Kong Island) Group under the 'New Asia Cup' Primary School Sports Award Scheme.

2006

In 2006, the school organized a series of activities to celebrate its 60th Anniversary, including Open Day, Thanksgiving Worships, Thanksgiving Banquet, Graduation Ceremony and Variety Shows. In addition, the primary school published "The Learning Journey Enriched with Exploration of Love" which systematically recorded the works of our students. Academically, we extended group teaching to primary six classes, achieving remarkable results. To broaden teachers' perspective, three study tours were organized for our teachers to visit Germany, Switzerland, Shanghai and Singapore. All participating teachers fruitfully benefited from the tours.

In celebrating the school's 60th Anniversary, the kindergarten section took the opportunity to enable students to learn about the history of Kau Yan School as well as the anecdotes of two missionaries of Kau Yan Church. A learning project entitled "Missionaries Who Wore Braids" was organized, complete with the publication of a story book on the same theme and a pictorial book to showcase the works of the students. Through this project, we aimed for the students to pass on the will of God and make contribution to the society in the future. In September of the same year, the kindergarten section joined the "National Education in Early Childhood" project, which was organized by the World Organization for Early Childhood Education-Hong Kong and funded by the Quality Education Fund. Among the 199 participating schools, our kindergarten was selected as one of the 20 "seed schools".

2007

In 2007, the parent education class, in celebrating its 10th Anniversary, published a special book entitled "Grace Added Upon Family", which was a testimony to the abundance of God's grace on the families of Kau Yan students. The kindergarten section successfully became an eligible kindergarten under the "Pre-primary Education Voucher Scheme" and received subsidies for teachers' professional development. In the 2007/2008 school year, Mrs. Julie To pursued a part-time course in Australia, while serving as School Principal. During her absence from Hong Kong, Ms. Tanny Lai became the acting Principal.
Development Phase
(2008-Today)
2008

In 2008, our school achieved outstanding results in the Secondary School Places Allocation, with 83% of its students allocated to schools of their first choice. Under the guidance of God, as the School Management Committee was able to identify Mrs. Gloria Chan Leung Suk-ching as a suitable successor to Mrs. Julie To as School Principal, Mrs. To decided to retire early in August. Nonetheless, she served as our school consultant assisting in the promotion of parental education after her retirement. Mrs. Gloria Chan became the Principal-designate in May and the Principal of the school on 1 September 2008. Mrs. Julie To dedicated 14 years to provide quality education in Kau Y an School and was fully committed to the educational vision of Kau Yan School. She established an outstanding team of Christian teachers and created a Christian education culture that enabled each student to develop holistically and to know about Christ through life education. Credit should also go to Mrs. To for her efforts in organizing Sunday Parent Education classes in Kau Yan Church since 1996, which enabled parents to grow together, get to know Christ and educate our children with a mind full of clear intentions.

Mrs. Chan Leung Suk-ching Gloria has been committed to the education sector since she attained her Bachelor Degree from The University of Hong Kong in 1982. In the past 29 years, she has served successively as a secondary school teacher of a Christian school, curriculum development officer of the Education Bureau, founding principal and education consultant of a directly subsidized primary school.

She has also been invited to various countries around the world for educational exchange and experience sharing. Gloria is very experienced and skilled with school administration, school-based curriculum development and professional development for teachers. Furthermore, she has been frequently invited by universities and educational institutions to train serving principals and aspiring principals. In recent years, Gloria has been a board member of an international poverty alleviation organization and involved in active promotion of life education. She has also assisted fund raising for building schools, training local principals and teachers as well as paying visits to Africa and underprivileged regions in China, which included remote mountain areas.

Her principalship in Kau Yan School is blessed. Gloria leads the school with love and professionalism, as evident by the emphasis on life education, numerous staff development workshops, seminars and visits in and outside Hong Kong. She has toured around different countries such as Germany, Switzerland, Canada, Finland, UK and Mainland China with our teachers to gain and bring back more insights for developing a quality school. It is promising to find teachers becoming more reflective in their teaching and curriculum design. The school-based curriculum has developed vigorously in recent years.

2009

There are new modules facilitating the all-rounded development of our students. Students are exposed to many valuable learning experiences such as the newly established School Orchestra, sport teams, art programmes, English and PTH drama, gifted programmes, creative projects, enrichment weeks, exhibition of student works, IT projects, environmental projects, poverty alleviation activities and many others.

In our school premises' development, the 3.6-million Learning Centre started its service in September 2009. It was extended to 5300 sq ft and housed about 20000 books. The Wi-fi wireless internet service helped the advancement of technology education in the Kau Yan curriculum. The Centre has been proven as an excellent centre facilitating students' self-learning, project-based learning, community-based learning and technology-based learning. It also became an ideal place for exhibitions, mass assemblies and many other innovative learning activities.

2010

The year 2010 marked the 65th Anniversary of Kau Yan School and for which the theme 'Learn to Love, Love to Learn' was conceived. Memorial school calendars were printed and the 'Unlimited Grace' was launched to express our thankfulness to our Lord through multi-media means. Nearly 1,000 parents and alumni joined our anniversary dinner in December of the same year. On 11th & 12th April 2011, the Thanksgiving Worship & Annual Concert was held at the Jockey Club Performance Arts Theatre in The Hong Kong Polytechnic University. The wonderful performance of our lively students was greatly appreciated by the audience, who reacted with bustling excitement and they basked in God's glory. On 15th &16th April, 2011, our School Open Day was held. We chose to embrace the concept of a Green Anniversary for the love of the environment. A Fruit Sale was also organized to raise money for the UNICEF to put 'Learn to Love' into action.

The official opening ceremony of the 3,800 sq ft Integrated Arts Centre, which amounted to a total cost of 2.3 million, was held in September of the same year. It provided space for dancing, music, drama and sports activities and enhancing students' multiple intelligences. In addition, the school revamped its wireless network system to provide total wireless connectivity to every corner of the school.

The principal was accompanied by two other primary teachers to travel to Finland for an educational visit. They spent time visiting universities, secondary schools, primary schools, churches, museums and public libraries. All three were inspired and greatly stimulated by what they saw and their positive reactions to their visit were doubtlessly helpful for the development of Kau Yan School.

The school encouraged students to put the love of Christ in practice. As a result, caring for the needy became an integral part of our life education. The school was also connected to a number of poverty relief organizations worldwide to provide opportunities for our students to get involved in charitable work. In addition, the school endorsed a 3-year professional partnership program with The University of Hong Kong. Many of our educational initiatives caught the media's attention during this period.

2011

In 2011, the school adopted the Essentials Bible Curriculum (EBC) from the USA and this overseas curriculum has since been enhanced further in structure, depth and its application. Each morning, the EBC was used in conjunction with the Responsive Classroom® Approach to form our daily Morning Assembly. Students were offered abundant opportunities to grow both in spirit and in social skills. For this reason, the school invested generously in teacher professional development by sending staff overseas for training, acquiring relevant teaching materials and holding seminar & in-house training for staff members.

Once again, the Principal and 9 colleagues from both the kindergarten and primary sections, and other educators from the TTM made an educational visit to Germany and Switzerland. They visited a total of 5 primary schools and 5 kindergartens and were able to get a very good understanding of the educational systems, philosophy and schools in both countries. It was also a great opportunity to engage in meaningful exchanges with government officials from the education departments, pastors, congregations, principals, frontline educators, teenagers and students. The understanding gained from the visit was incredibly fruitful.

The Cookery Room came into service. It allowed students to practise simple cookery skills and reinforce a healthy dietary habit. E-circulars and an improved payment system effectively reduced paper consumption and the administrative workload.

On the kindergarten front, Mrs. Irene Chan Man Fung Ying assumed her duties as Head of Kindergarten in September. She devoted herself to early childhood education since 1977, having been involved in teaching, administration and leadership work. She obtained a Bachelor degree in Education with Honours and a Master of Education from the South Australia University and Hong Kong Baptist University respectively. She had a great passion for pre-primary education and she placed much emphasis on curriculum development. She actively promoted a child-centred approach for learning and under her leadership, the kindergarten successfully improved its own environment, by renovating the Roof Garden which provided a safe place for children to enjoy a range of physical activities. Furthermore, a variety of facilities were added to the Roof Garden to allow children to choose activities based on their own interests. Irene, time and again, provided in-house professional development for colleagues with topics ranging from a child-centred teaching approach, age-appropriate child observations and reporting of learning progress. She also arranged peer observations, which enabled teachers to enrich their repertoire of teaching practices in their own classrooms.

2012

Our Primary One embarked on the 'Homeroom Approach' and students were relieved of the task of having to accommodate different teachers' expectations at the primary entry stage. The language teachers and class teachers worked collaboratively with subject integration, classroom decoration, routine setting and learning activities at the heart of their curriculum planning, to substantially optimize learning effectiveness and motivation.

Four multi-purpose rooms were newly renovated, providing a more flexible and spacious learning environment and in addition, a Medical Room on the 4th floor was built to provided a bed rest facility for sick children. At the same time, the renovation work of the small garden was also completed. The levelling work, in conjunction with added facilities, provided a larger space for fun-filled activities for both kindergarten and primary students.

In the kindergarten, the school remodelled the learning environment. We established 3 different language learning areas for children to enjoy language activity. To optimize the reading environment, we further expanded the reading corner, adding new furniture and books. Our aim was to provide a comfortable and enjoyable reading environment for the children.

Art and creativity were also highly valued in our kindergarten. To encourage the children to freely express themselves through art experiences, an Arts and Craft Corridor was launched to allow children access to a variety of artwork and eco-friendly materials. The work of the children was also displayed. The school also opened up a Music Room, which was decorated by wood and large mirrors. Children could freely express themselves through music and movement. They were also allowed to experiment with different instruments, fostering their appreciation for music at an early age.

To better take care of the well-being of our students, an Educational Psychologist, Ms Angel Chan, was additionally employed to serve our school and 2 other TTM schools. She worked at our school every Wednesday.

To enhance the school development, we carried out five programme evaluations namely 'effectiveness of school-based curriculum', 'effectiveness of morning session and EBC', 'effectiveness of the Learning Centre', 'effectiveness of student leadership training program', and the 'effectiveness of professional development training'. Based on the data gathered, improvement strategies were embarked on accordingly.

2013

With the students' best interest and their holistic development in mind, the school was placing more emphasis on cultivating a health-conscious culture in the year 2013.

The well-being of our students was enhanced through the promotion of a healthy life style. Hence, our P.E. curriculum, extended learning activities and break-time activities were adjusted accordingly to engage our students in physical exertion. At the same time, the school continued to reinforce its healthy eating policy, under which students were prohibited from bringing junk food to school. As far as the spiritual health was concerned, a positive and active attitude was nurtured through regular mass assemblies, lessons and teachers' role modelling.

A new module, namely 'Pay it Forward', was established at the P.5 level to allow students to get practically engaged in helping the needy in our community. Through service and love in action, we hoped, students could make a positive change to this world.

Selected students and staff members were chosen as representatives to participate in an eight-day exchange programme, organized by 'Hong Kong Global Geo-park of China', which linked Hong Kong Geo-park to Japan Geo-parks. Students gained precious experiences, appreciated the uniqueness of Japanese culture and experienced unforgettable memories during the trip, as they acquainted themselves with the world-class Geo-parks of Japan and enjoyed integrating with Japanese students in their school setting.

A company of teaching staff, consisting of seven members, was led by the Principal to visit Sweden in January. They visited local kindergartens, primary schools, secondary schools and other public facilities (e.g. museums) to understand its general educational environment and its efforts in promoting health and creative education.

2014

Positive Education was introduced at the beginning of the term. The response from students, teachers and parents was supportive and affirmative. The school worked vigorously towards cultivating a positive culture, through which positive thinking and emotions were nourished and a more liberal and fulfilled life could be enjoyed.

The Principal, together with two SMC members and 8 teachers, attended a 3-day positive education training camp organized by the 'Institute of Positive Education, Australia'. Much insight was gained through the investigation and reflection on different areas of the topic and through which the ideals of positive education could be seeded in Kau Yan School.

2015

With the insights and experience gained from the visits to different schools in Europe, we came to the understanding that providing students with an environment which was clean and tidy, refreshing, peaceful and well-equipped with up-to-date technology was crucial to their growth and learning. Having developed and refined the school curriculum, the school decided to advance its hardware to provide a more favourable environment for the students. The 'Classroom Advancement Project', which amounted a cost of around 4.5 million, was thus carried out in the summer. Another 0.5 million was invested into the 'School IT Network Advancement Project'. A walkathon was held in April to raise funds for the CAP. The occasion, with a total of around 1,500 participants, raised HK$922,832.

Mrs. Irene Chan, Head of Kindergarten, resigned after 4 years of hard work in Kau Yan. The Board of Supervisors was very grateful for her dedication and the contribution which she had made to the school. Under Mrs. Chan's leadership, there was vigorous improvement in both the facilities and staff development of the kindergarten, which facilitated a higher quality of teaching and learning. With the resignation of Mrs. Irene Chan, the position was taken up by Ms. Kwan Shan, former principal of 'Hong Kong Institute of Education HSBC Early Childhood Learning Centre' and Part-time Lecturer of Early Childhood Education Department in HKIEd. Ms. Kwan is passionate about education and holds a Master's Degree in Early Childhood Education from the Department of Education in the Chinese University of Hong Kong. It is her conviction that guiding young children to the right path is the mission of teachers. Her favourite verse, 'Train a child in the way he should go, and when he is old, he will not turn from it.' (Proverbs 22:6), fully captures her mission in education. Ms. Kwan assumes her duties as Head of Kindergarten in September 2015.

2016

Kau Yan School started to have one-hour STEAM lessons once a week, which included 3-dimensional (3D) printing, coding, robotics, engineering etc. Learning through games and projects, students were able to grasp and make use of the latest technology, exercising their creativity. They also became equipped with the skills to overcome the challenges brought on by the advances in science and technology.

Micro-teaching was formally introduced amongst teachers, so as to enhance the quality of teaching and learning. Teachers were encouraged to further develop their professional skills through reflective and co-operative learning. Some lessons were recorded for professional exchanges and used as reference material. The lessons were also evaluated in terms of strengths and weaknesses.

2017

The Positive Education curriculum across all year levels was developed. With the positive education lessons, students' character strengths were emphasized, which helped them better establish their moral values and achieve their potential. They learnt how to appreciate things around them, to be more contented and confident, as well as being grateful to God.

The renovation project of classrooms was completed. Most of the traditional individual tables were replaced by various group tables. More flexibility in learning and teaching was now able to take place and the learning diversity of the students was also catered for. Learning thus became more interesting, effective and engaging.

2018

Mrs. CHAN LEUNG Suk-ching, Gloria retired in August. She had served for ten years as the Principal of Kau Yan school. During her service, she was committed to the mission of Kau Yan School. It was Mrs. Chan's dedication that led to the improvement of the school campus, the development of the school-based curriculum, positive education and the teachers' professional training.

Dr LAM, Patrick Hak Chung took over as the Principal of Kau Yan school on 1st September. Before this appointment, he has worked in the field of education for twenty-six years. He has been a teacher and a principal in both primary and secondary schools. He was also the Associate Director of the Hong Kong Academy for Gifted Education and the Project Manager of an External School Review in the Ministry of Education in New Zealand. He has led students on many international trips across the seven continents, in an effort to inspire them through exploration and learning through service.

Dr. LAM introduced many challenging but inspiring leadership programmes and international exchange programmes to the students of Kau Yan school. He also improved the modular and the Enrichment Week curriculum of all grades.

'Breakfast Meetings', 'Home-School Prayer Meetings', 'Sweet Moments' and 'Parent Forums' were held in order to strengthen the ties between the school and the parents. A new record for the 'Parent Class' enrolment was set, as over three hundred parents attended the seminar and exchange every Sunday morning.

2019

The 'all-graduate teaching force' policy was implemented that year. Apart from the salary review, the professional roles and functions of teachers were enhanced to further improve the quality of education.

Students of Kau Yan School completed the 100km trail under the 'Kau Yan Grit –Trailwalker'programme for the second consecutive year. The spirit of having 3Cs (courage, commitment and conversion) in life was developed and enhanced. This experience was recorded and recognized by the China Hong Kong Mountaineering and Climbing Union (CHKMCU) and MacLehose Trail 40th Anniversary Celebration Programme of the Agriculture, Fisheries and Conservation Department (AFCD). For the first time, the school teamed up with the principal, a teacher and two parents to participate in the Oxfam Trailwalker, 2019. Although the official event was cancelled due to social incidents and demonstrations, the school team, together with the parent-student support team, completed the 100km trail on the day as scheduled. This was a very good example of home-school co-operation working out in a very positive way.

During the Chinese Lunar New Year in 2020, Dr. LAM led a group of ten teachers of Kau Yan School to visit Finland for a study tour. They looked into educational issues from many different perspectives and as a result, teachers have been able to gain a deeper understanding of the school curriculum design and how to better put the pedagogical theories into practice.

From February to June in 2020, all schools in Hong Kong were suspended because of COVID-19 pandemic. Therefore, all the international exchange programmes, short-term ministries, poverty alleviation experience trips and the modular curriculum of all grades were cancelled. Facing this unprecedented incident, Kau Yan School offered online lessons and online learning materials, for the students to learn from home. The school resumed in June and the term ended on 10th July, 2020 due to the variable outbreak of pandemic of COVID-19.

We pray that God continues to empower our school members to spread the love of Christ and pass on the mission for the school establishment of the TTM Kau Yan Church: nurturing talents, evangelizing the Gospel and glorifying the Holy name of the Lord.